Since 2014, the Open Source Seed Initiative has been developing a unique mechanism for freeing crop germplasm that is being embraced enthusiastically by farmers, gardeners, plant breeders, and seed companies. Now, with over 325 open source (OSSI-Pledged) crop varieties, 33 cooperating plant breeders, and 38 seed company partners, OSSI is poised to enter a new stage in its development. It is with great pleasure that the OSSI Board of Directors announces the appointment of Claire Luby as our first Executive Director, effective June 1, 2016.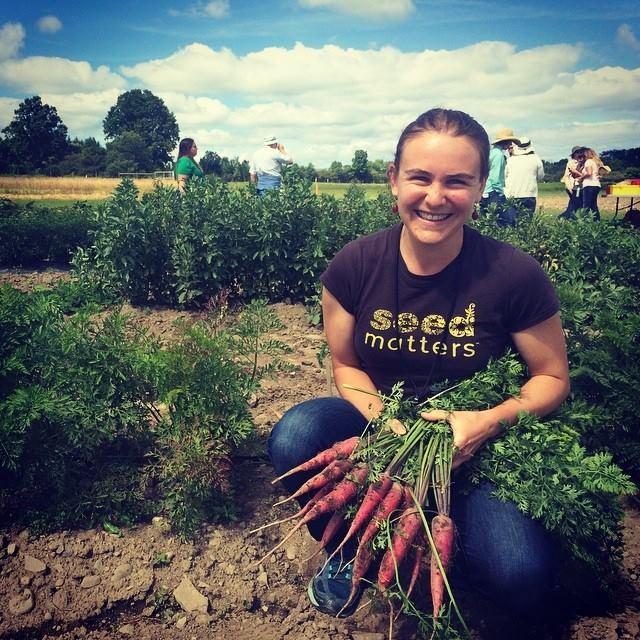 Claire recently completed her Ph.D. in Plant Breeding and Plant Genetics at the University of Wisconsin-Madison. Her thesis focused on assessing genetic variation and freedom to operate in a large collection of U.S. carrot cultivars, the first such study to be conducted for any crop. Claire's work asked whether the cultivars with "freedom to operate" in carrot breeding—that is, cultivars without intellectual property restrictions—represent an adequate portion of the total genetic variability of the crop. In addition, in collaboration with Irwin Goldman, Claire developed eight intellectual-property-free populations of carrot germplasm based upon market and color classes and released them as OSSI-Pledged varieties, thus providing ideal sources of material that all interested can use to breed new open source carrot varieties. Claire is a co-founder of OSSI as well as a member of the Board of Directors, and as an experimentalist, has provided foundation data and germplasm to guide the theory and practice of open source breeding in the future.
A native of Minnesota, Claire joined the graduate program in Wisconsin in 2011 after completing undergraduate work at Middlebury College and a stint in Washington DC on the President's Commission on the Gulf following the BP Horizon disaster in the Gulf of Mexico. Claire had an exemplary graduate career at Wisconsin, earning a number of honors and awards. She was a Seed Matters Graduate Plant Breeding Fellow and a recipient of grant awards from the Ceres Trust and USDA-NC-SARE. In addition, with two other graduate-student colleagues, Claire co-founded the Student Organic Seed Symposium in 2012, an enduring and highly innovative annual gathering for students interested in the rapidly expanding field of organic seed. Claire's publications encompass both plant breeding and control of germplasm, and have appeared in Crop Science, HortScience, Plant Breeding Reviews, PLOS Biology, and elsewhere.
The Open Source Seed Initiative Board of Directors is thrilled to welcome Claire as its first Executive Director.