This post kicks off a new series on the blog that will profile all of the wild and wonderful seed companies that sell OSSI-pledged varieties – our seed company partners. These folks are a crucial part of the OSSI model, as many of our OSSI-pledged varieties have been bred by independent breeders that often don't have direct access to means of large-scale seed production. These seeds are often unique, have a great story, and some are bred and adapted in organic systems and for specific regional climates. Also, they are "freed" – you can grow them, save them, breed with them, make a beautiful collage – oh, the possibilities.
By selling OSSI-pledged seed, our seed company partners (many of whom are breeders too) are helping to make open source varieties available to the anyone who has a hankering for it, making this freed seed more accessible to those who want it and spreading the word about the importance of open source seeds to their customers.
This partnership between independent breeders and commercial seed companies is a key link in building a more diverse and resilient seed system. These days, there aren't all that many people breeding the food and ornamental crops that are widely commercially available. A few university-based public plant breeders along with private companies that have greatly consolidated in the past decades are responsible for the vast majority of the varieties you see in the major seed catalogs.
OSSI seed company partners offer unique varieties that might only be offered by one or two companies, as well as transparency about who "owns" the rights to that variety. That means that we buyers and growers of the seed get to choose what kind of seed system we support. So – three cheers for our seed company partners!
First up in our Seedy Partners Profile series is the BC Eco Seed Co-op:
---

The BC Eco Seed Co-op is a producers' co-operative of 15 seed growers from across British Columbia Canada. We are committed to vegetable, herb, grain, flower, and cover crop seed that is ecologically grown, open-pollinated, regionally adapted, held in the public domain, and GE-free. Our mission is to increase the quantity and improve the quality of ecological and organic seed grown in BC. We believe that seed sovereignty is an essential part of sustainable bioregional food systems.
How did you decide to get into the seed business/growing seeds? How was the seed cooperative come about?
For many years, there has been ongoing dialogue about ways to better support seed producers in BC. Marketing and mutual support were identified as two key needs. In 2012, critical discussions at seed gatherings helped move forward the idea of a co-op. We were excited about the great emerging small and local seed companies, but many did not carry bulk volumes for farmers, so we created a seed company that does. We see a co-operative as a powerful model to achieve greater farmer co-operation to pool resources, support on-going educational opportunities to better produce seed in the quantities farmers need and promote member farm businesses and create networking opportunities for regional seed producers.
2. How did you learn about seed growing and the seed business? Who were inspirational figures/mentors in your learning? Any favorite books or other writings?
Our members all have learned about seed in a variety of formats including workshops, mentors, books, and trial and error. Some favourites include
Suzanne Ashwoth's classic

Seed to Seed

John Navazio's

The Organic Seed Grower

The Fedco catalogue is also a great resource for getting an idea of which varieties are coming from the large mega-corporations, versus smaller scale farmers and breeders.
Inspirational teachers are many:
Carol Deppe

Frank Morton

John Navazio

Raul Robinson

Eliot Coleman (though not seed specific)

Dan Jason of Salt Spring Seeds. One of our members shared that Dan is such a prolific writer and promoter of seed saving and someone who has always taken phone calls, answered questions and even gifted seed stock to get more seed in the hands of growers. Dan's early and continued support fostered the possibility to be a seed grower and have a viable business and radical way of creating environment and social change. Truly a local seed hero.

Another member shared the memory of C.R. Lawn of Fedco Seeds presentation at the NOFA-NY conference and it opened their eyes to how much control so few companies have over seed, and how vulnerable we really are

Also having our members engage and present in the community has influence, it's provided inspiration for other new members to join.

The plants themselves also offer much inspiration!
3. Why is open source seed important to you?
It keeps the seeds and their genetics where they belong and where they can keep evolving with us. We need diversity in our food system; germplasm we use to breed new varieties are a gift from the past and growers should not be limited by patents to continue to make them available. In the closed fist held high to show solidarity and support the revolution we can clutch seeds so that when our hands are opened, seed will feed the change so hard fought for.
4. What's your favorite variety that you grow/sell?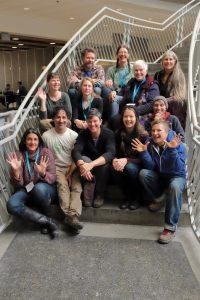 Tough question. Joelene Rustic Italian Pepper is a favourite. Also the Linnaea Leek because it has been on Linnaea Farm longer than seed grower and co-op member Adam Schick and adapts better and better to the place year after year and offers nourishment through winter. It reminds us that we too must change and adapt with every season if we are to leave anything to feed the future. Brandywine tomatoes too are a favourite as they are so fragile and precious so we get to enjoy them ourselves!
---
OSSI-pledged varieties offered by BC Eco-Seed Coop:
Learn more about the BC Eco Seed Co-op and peruse their catalog here.