The OSSI Community continues to grow and thrive. We've been working with plant breeders and seed companies to expand the open source seed offerings available to gardeners, farmers and plant breeders of this and future generations. We currently list nearly 300 OSSI-Pledged varieties bred by 34 Plant Breeders and offered for sale by 38 seed companies! We've also been working on developing partnerships with organizations such as Seed Savers Exchange, grocery stores, and seed libraries to spread the word about OSSI and open source seed.
OSSI has received high-profile media attention in both popular magazines and academic journals. The major popular article features from last seed catalog season include:
These articles were deliberately timed to reach gardeners and farmers during the seed ordering season so as to create the optimal publicity for our seed company partners.
Our recent academic articles include:
"Open Source Plant Breeding and the Open Source Seed Initiative," by Claire Luby, Jack Kloppenburg, and Irwin Goldman. Plant Breeding Reviews, 2016.
Forthcoming promotion for OSSI will include the release in December of a Peak Moments TV/YouTube interview with Carol Deppe, complete with OSSI songs. In addition, there will be a 4,000-word article by Carol in the Jan. (Seed) 2017 issue of Acres/USA on "Thirty-three Great Open Source Organic-Adapted Vegetable Varieties."
We've made some new additions to our OSSI leadership team. We were excited to welcome CR Lawn, founder and CFO of Fedco Seeds, to our Board of Directors in winter of 2016. CR founded Fedco Seeds, a hybrid consumer/worker farm and garden products cooperative in 1978 and has been one of its managing coordinators since. He is responsible for much of the distinctive writing and vivid variety descriptions in the Fedco Seed catalogs. CR holds a JD from Yale Law School. His contributions include past membership on the board of MOFGA and as Chair of the Common Ground Fair Steering Committee. He was a contributing editor of Organic Seed Production and Saving by Bryan Connolly (Chelsea Green, 2011) and of The Heritage Grain Grower by Eli Rogosa (Chelsea Green, 2016), and has written and spoken extensively on topics of economics and issues around seeds, farming and genetic engineering. We are thrilled that he is bringing his extensive experience and wisdom to the OSSI Board of Directors.
In June, Claire Luby started as our first half-time Executive Director. Claire is a co-founder of OSSI as well as a member of the Board of Directors, and as an experimentalist, has provided foundation data and germplasm to guide the theory and practice of open source plant breeding in the future. Claire recently completed her Ph.D. in Plant Breeding and Plant Genetics at the University of Wisconsin-Madison. Her thesis focused on assessing genetic variation and freedom to operate in a large collection of U.S.A. carrot cultivars, the first such study to be conducted for any crop. In addition, in collaboration with Irwin Goldman, Claire developed eight intellectual-property-free populations of carrot germplasm based upon market and color classes and released them as OSSI-Pledged varieties, thus providing ideal sources of material that all interested can use to breed new open source carrot varieties. In addition to her Executive Director appointment, Claire continues her research on genetic diversity and intellectual property rights through her half-time postdoctoral position at the University of Wisconsin-Madison.
Board Member Jahi Chappell recently moved from his position as a Senior Scientist and Director of Agroecology and Agriculture Policy at the Institute for Agriculture and Trade Policy in Minneapolis, MN to being a Senior Research Fellow at the Centre for Agroecology, Water, and Resilience at Coventry University in the UK. There he will conduct collaborative transdisciplinary research and connect with communities in order to analyze, coordinate, and develop actions and policies to create a sustainable, decentralized, and deeply democratic food and agriculture system. Jahi has also been busy writing his first book, Beginning to End Hunger, which will be published by University of California Press in 2017. Being based in the UK, Jahi will be able to better support our UK-based Seed Company Partners and explore greater cooperation with breeders, seed companies, and others in the UK and EU.
OSSI has wrestled with the question of whether to go with a fully legally enforceable Pledge since our inception. Ultimately, we decided on our current Pledge, agreeing that working on the moral and ethical plane best fit our style and values. However, we raised the question of the legality of our Pledge with our lawyers. They advised us that they believe the Pledge to be legally enforceable.
We have continued to work through how the Pledge operates on a practical level for seed companies and breeders. After consulting with our breeder and seed company partners, we have developed guidelines for contracts and licenses that protect the full rights of farmers, gardeners and plant breeders to use seed, but that also allow the sort of seed multiplication and benefit sharing arrangements that facilitate seed production. Our formal policy is as follows:
The Open Source Seed Initiative permits any contract or agreement for seed increase and/or benefit sharing for OSSI-Pledged varieties in which the restrictions on the use of the seeds are limited to the two contracting parties. OSSI does not accept arrangements in which there are restrictions on the seed that extend beyond the two contracting parties. Seed companies can pass no restrictions on to breeders or customers. From the point of view of breeders or customers, OSSI-Pledged varieties must be unrestricted.
What freedoms does the Pledge protect? In order to better communicate to a wide variety of audiences exactly what freedoms the OSSI Pledge is protecting, we have developed the "Four Open Source Seed Freedoms" to explain what it means for a variety to be released under the OSSI Pledge.
The Four Open Source Seed Freedoms are:
The freedom to save or grow seed for replanting or for any other purpose.
The freedom to share, trade, or sell seed to others.
The freedom to trial and study seed and to share or publish information about it.
The freedom to select or adapt the seed, make crosses with it, or use it to breed new lines and varieties
When you buy, grow, or breed with OSSI varieties, and when you pass the Pledge along with the seed, you are protecting, extending and perpetuating these four essential seed freedoms.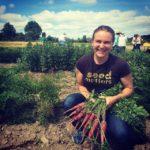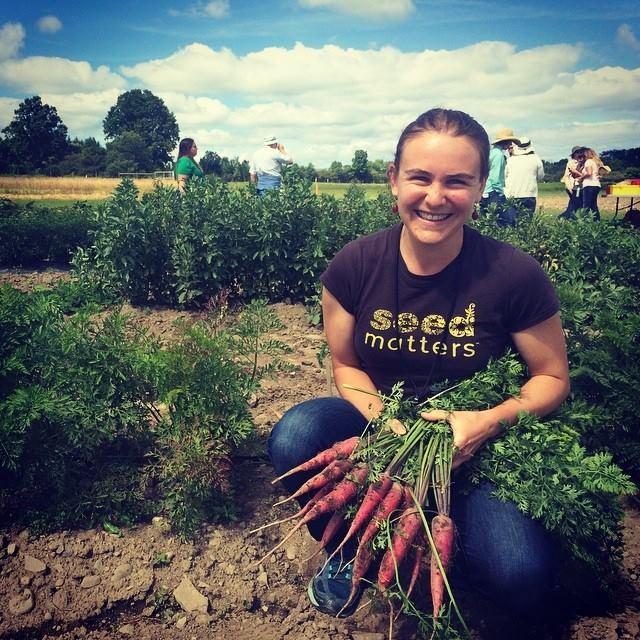 Claire Luby is half-time Executive Director of OSSI and half-time postdoctoral researcher at the University of Wisconsin-Madison in plant breeding and plant genetics. Claire's research examines the impact of intellectual property rights on freedom to operate for plant breeding. Claire is also a co-founder of the Student Organic Seed Symposium (Photo credit: Matthew Dillon)